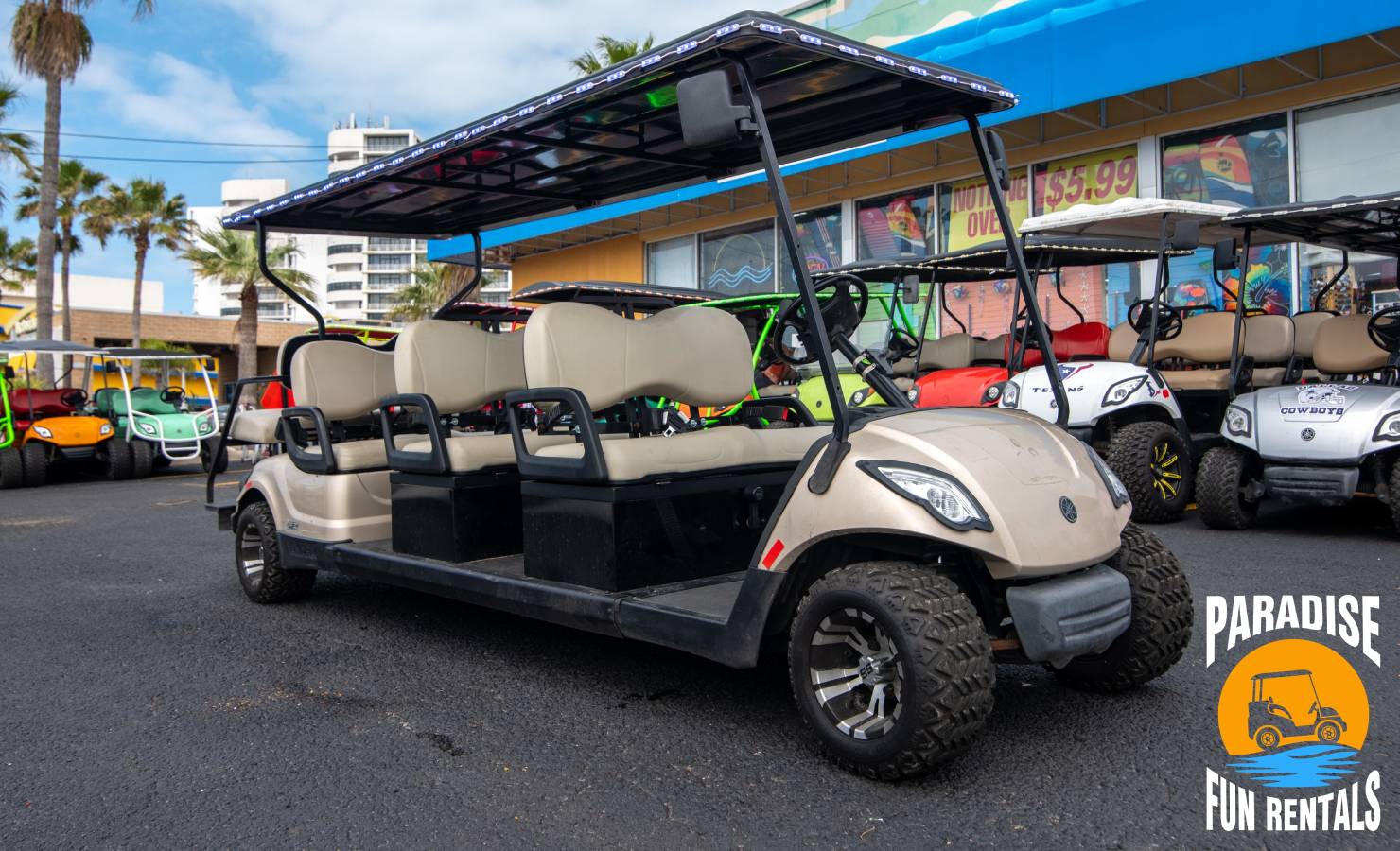 White sand, sea turtles, dolphin cruise, and golf cart rentals – beach holidays don't get any better. South Padre Island is the perfect family getaway at all times of the year. There are golf carts available for hire. And there is no better way to go around the many island attractions than hopping onto a rented golf cart. Spacious, comfortable, and oozing with style, these golf carts offer visitors the easiest transport across the island. Whether you are a small family of four or a rambunctious party of eight, golf cart rentals have got you covered.
Want to see South Padre Island from the comfort of your seat? Rent a cart. Here's why golf cart rentals are your best and safest choices to explore the island in leisure:
1. Private and safe transport for families with children
Most golf carts are meant for family rides. As such they come equipped with safety features like seat belts and child seats. They are rented with strict adherence to traffic laws. The beach and the causeway are forbidden to minimize the chances of accidents. Since they can be driven by only license holders, it reduces the chances of mishaps on the ride. In most cases, they are driven by family members so you don't have to stress over an unknown driver's skills.
As for your belongings, you can keep them on the cart while enjoying ample legroom. Brightly colored, they make for a relaxed ride. Ideal for a family of four, these small carts are little personal spaces when you tour the island amid a sea of visitors. No ride-sharing with strangers. It makes for an intimate trip and lasting memories.
2. Ideal for large group tours
Golf cart rentals are great for bringing the whole team as one. Whether you have seven best friends and all travel together or your souvenir bag needs a seat of its own, you can always find carts that accommodate your needs.
Take your pick from 6 and 8 seaters so everyone has a place and enjoys the view without much pushing or knocking neighbors off their seats.  These larger carts are also easy to drive on the streets of the island. What appeals to most visitors are smart designs, unobstructed views, and ease of getting on and off these carts.
3. Choose from trendy vehicles
Golf cart rentals don't have to look boring. Splashes of vivid paints, ergonomic design, in-built lights, audio systems, ample legroom, plush seats, and a sparkly clean exterior are ready to welcome you on board. They are sturdy, with wide tires and a well-balanced body. They meet compliance and are well-maintained.
4. Avoid walking long distances between island attractions
Why walk when you can drive? One of the benefits of renting a cart is you can keep your feet off the road. While the cart navigates from beaches to private bays to fishing spots, you can enjoy a quick snack or read up a little about the island's history. Most rentals have more than one office on the beach. They allow you to pick a cart from one location and leave it at another.
Visitors who rent carts usually reach attractions quicker than those who walk to them. If you drive a cart, you visit more places at any given time too. Renting a cart lets you enjoy the fresh air and avoid the madness on the streets.
5. Golf cart rentals are the best options for families with very young children or seniors
If you are visiting South Padre Island with toddlers or the elderly, save them the trouble of exploring the place on foot. With soaring daytime temperatures and a constant crowd of revelers, it's better to navigate the many attractions from behind the wheels. Ask the rental company about wheelchair and stroller access.
Seniors might find it daunting to keep up with the rest of the group. Many of them like to explore a place at their own pace. Golf carts offer them this chance. Besides, public transport is likely not very popular with either the youngest or the oldest guests.
6. Rented vehicles allow you to create a customized itinerary
Here's your chance to show off your planning skills. There are so many things you can do in South Padre Island and so little time to do them all. Start the trip when you are ready and end it when you are satisfied. There's no one to rush you through it.
When you book with a rental, ask for the available slots for the day of your booking. Pick a slot that suits your needs so that the trip time is a seamless match with your plans. Rentals are mostly oversubscribed so check with the service provider.
7. Easy to hire and cost-effective
You don't have to spend a lot of time or money to rent one of these carts. Most rental companies charge by the hour or have three to four hour slots. There may be a security deposit too but that only keeps riders and drivers alert and safe on the streets. Just keep to the right side of traffic rules and you should enjoy a smooth ride. For instance, park your cart at the proper spot, avoid overloading it, and resist the urge to drive on the beach, and so on.
Most golf cart rentals take their business seriously and ensure high standards of safety and professional assistance.  Some even rent out slingshots. Drive them around the island and enjoy the attention.
Ready for a trip around South Padre Island? Connect with a rental right away. State your date and count your members. Also, ask in detail about the charges as well as what service is included and what is not. Often, rentals don't offer hotel pick up and drop. So you could enquire about the time it takes from your place to theirs. You may also want to know about the cancellation policy since life often gets in the way. So, take a trip whenever you want. Get in touch with golf cart rentals today and start packing.