Description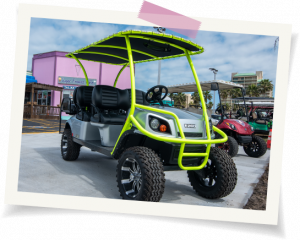 Need a little extra room on your adventures? Choose one of our 6-seater golf carts for extra people (or more space for all your souvenirs!).
What you need to know
Golf carts are motor vehicles. Most traffic laws apply to their operation — including, seat belts, open container and DWI laws.
Golf carts may only be operated by persons with a valid operator's permit and/or driver's license. Must be 18 years or older.
The rented vehicle shall not be used to carry passengers in excess of the capacity.
No person may ride in the lap of the driver or any other occupant.
While the golf cart is in motion, the driver and every other occupant of a golf cart must remain seated in a seat designed to hold passengers.
The rented vehicle must be driven on South Padre Island streets only. Vehicles may not be driven over or on the causeway, or on the beach.
ANY VEHICLE THAT IS DRIVEN ON THE BEACH IS SUBJECT TO LOSE DEPOSIT.
Refund Policy
You will receive a 50% if refund if given a 24 hour notice.