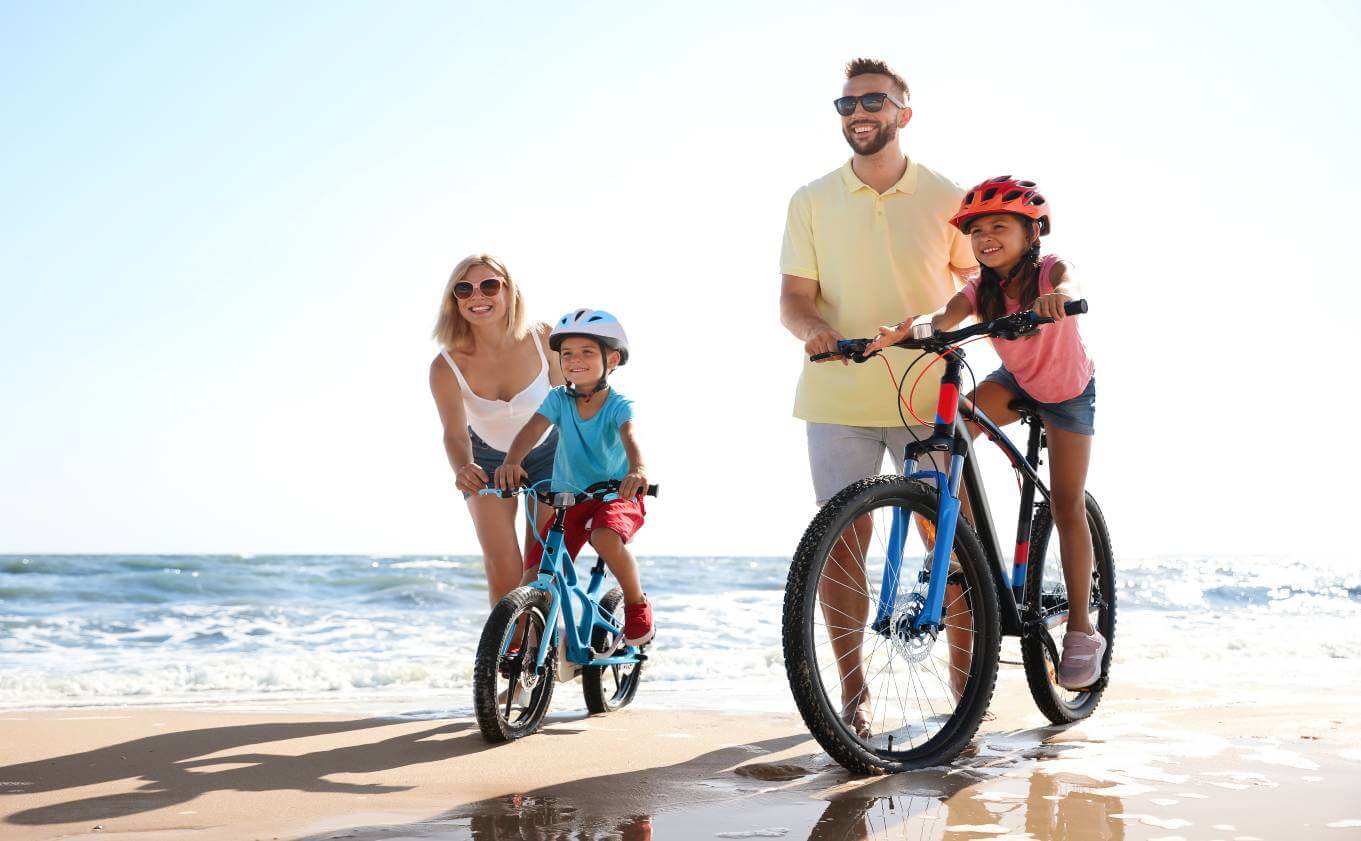 South Padre Island (SPI) is a popular vacation destination for families all year long, thanks to an endless array of activities that keep the kids busy. However, the undisputed star of SPI is the beach. Laguna Madre Lagoon, South Padre Island Beach, and Isla Blanca Park are all family-friendly places to enjoy sand, surf, and sun with your kids. The best part of the beaches on SPI is the fact that many beach activities are free, or very inexpensive. If you want to hit the beach with the whole family on a budget, here are some of the very best activities to embrace on SPI.
Walk Laguna Madre Nature Trail.
Turn the beach into a wildlife adventure by walking the Laguna Madre Nature Trail. This 1,500-foot boardwalk is flat enough and short enough for even the littlest feet to traverse successfully, but chock-full of some of the island's abundant wildlife.
The trail provides breathtaking views of Laguna Madre, as well as fascinating glimpses into wetlands that house a plethora of birds, turtles, and other animals. Known especially as a place to birdwatch, the trail provides glimpses of both coastal and migratory birds who are drawn to the many berry bushes that line the path.
Bring your binoculars and the kids and hit this trail as a must-see part of your SPI adventure. With such a walkable and variable locale available on SPI, you may even want to come more than once.
Walk Sandcastle Trail (and build some yourself).
Your list of free kid-friendly things to do on SPI should also include a stroll down Sandcastle Trail. This trail allows you to enjoy many of the unique sand sculptures that dot the island. If you check the trail map before you go, you can even see which sculptures are completed and which are currently under construction or renovation so you can plan your trip accordingly.
Some of these sand sculptures have been crafted by SPI locals, while others have been created by artists who have traveled from international locales. While you can travel the trail by foot, the sculptures are spread out a bit, so the best approach is to rent a golf cart or slingshot from Paradise Fun Rentals to take yourself and the kids on an exploratory trip to see some unique beach sculptures.
Of course, once you gain inspiration from Sandcastle Trail, you should head to one of the island's beaches to build your own sandcastles. We have all the supplies you need, so even if you didn't bring chairs, blankets, buckets, and shovels, you can still create your own sand masterpieces with your favorite little ones.
If you are willing to spend a little money on a one-of-a-kind beach experience, you can even pay for sandcastle building lessons. Is it worthwhile? It might be if you want kid-friendly activities on SPI that go beyond the normal sunbathing and swimming.
Teach the kids to fish.
Thanks to the multiple beaches on South Padre Island, there are dozens of places to teach your kids to fish. You can go surf fishing at many of the sandy locations on the island, or check out the jetties and piers that provide access to deeper water.
One of the most scenic piers for fishing (or just enjoying the view with your children) is the Queen Isabella State Fishing Pier. One acre of park and pier juts far out into the water providing a peaceful view and a perfect place to teach your kids to cast, catch, and enjoy the many fish that swim in the waters below.
Need fishing supplies? Stop by Paradise Fun Rentals for the stylish and spacious transportation you need to get to any of the island's fishing spots, and for the gear that can make fishing one of the best kid-friendly activities on SPI.
Climb the northern dunes.
One of South Padre's Island's well-kept secrets are the northern dunes. Just head to the island's northern beach and climb the dunes. This is a perfect kid-friendly activity for SPI because it provides your children with a free way to jump, roll, climb, and run without a great deal of expense.
One bonus of the northern dunes is the ocean view that greets you after you crest the hills. You can put up your beach chair and relax while your kids expend their energy playing on the dunes. That makes for an ideal holiday for the entire family.
Swim at any of the island's beaches.
No beach vacation would be complete without a swim in the beautiful blue ocean waters. Swimming in the ocean can be tricky with little ones, but inflatables, floaties, and the right choice in beach can provide a safe and memorable way to get in the water on SPI.
One of the calmest areas to swim on the island is Laguna Madre Lagoon. Plus, the saltiness in the lagoon makes it much easier to float in the blue waters. Just be aware that there are no lifeguards and the area is prone to strong currents and tides, so embrace swimming with your kids with the same caution you would exercise anywhere else.
Bring your kayak or paddleboard into the Laguna Madre Lagoon.
If you want to do more than swim in the peaceful Laguna Madre, you can bring a kayak or paddleboard to enjoy with your children. As one of the best kid-friendly activities on SPI, kayaking or paddle boarding provides hours of fun on the water for a relatively low cost. Whether you are new to these activities are ready to embrace a well-loved hobby, enjoying the water with your children is one of the best ways to enjoy everything South Padre Island has to offer.
If you choose to visit South Padre Island, you should come prepared for endless beachy fun. Here at Paradise Fun Rentals, we have many options for golf carts, slingshot rentals, and other must-haves to make getting around the island and enjoying your time there easier and more relaxed. Book your SPI vacation now and stop by Paradise Fun Rentals for the everything you need to ensure a memorable time.